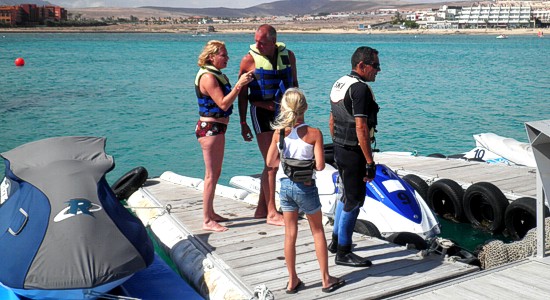 JET SKI THE CASTLE - FUN AQUATIC SPORT is a rental company jet, kayaks, pedalos and fun Baby Whaler in Caleta de Fuste, Fuerteventura.
It has a private dock located at the east end of Playa del Castillo, near the Marina andthe diving school and opposite the Castle and the pools of Hotel Barcelo Castillo.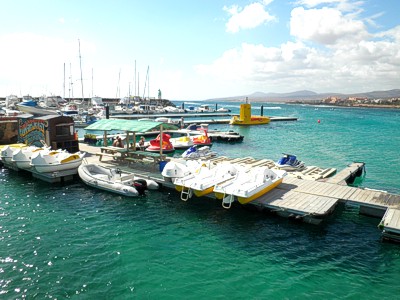 Gilberto, monitor school titled watercraft and Enterprise Manager, customers professionally teaches the basics of management of water bikes, new, in perfect condition and brand HONDA. The circuit to use the jet is in a secure area specifically for jet skis and guided perfectly.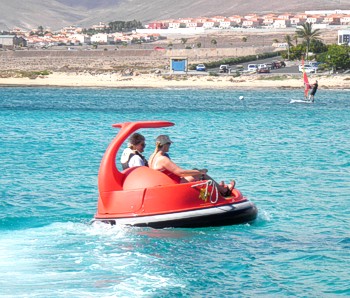 In addition to the jet, it is also possible to rent a fun device called BABY WHALER, a boat hull with three seats round, which is equipped with a jet-powered Honda engine (like a jet ski), and is handled very easily with a Joystick. Usage is very simple and Gilberto teaches you in less than 2 minutes how to handle this fun toy.
And if you want to browse without noise of any kind, you can rent a pedalo, as this company has two models available and sufficient units for all customers. These pedalos are one of the best ways to be in direct contact with the sea in the bay of Playa del Castillo, and may stop and take a bath. since all pedalos have a comfortable and convenient ladder to climb aboard from the sea.
For most athletes, the company also has two beaches kayaks, very stable and comfortable, with which you can navigate through the area marked out of the sheltered bay of Caleta de Fuste Castle.
Navigating with the BABY WHALER, the pedalos and kayaks, is performed through an area marked out very safe so do not bother the bathers on the beach or sports boats entering and leaving the Port of Caleta de Fuste.
This company is open all year, thanks to the natural protection of the beach, water sports can be practiced almost every day.