The tourist resort of Costa Calma is located in the south of the island, right in the narrowing of the field maximum in the area called Jandia Peninsula.
In the municipality of Pájara (municipality in Spain with the highest number of miles of beach), Costa Calma has more than 50 Hotels and Residences, one of the four resorts in Fuerteventura.
Costa Calma is divided into two parts along the beach are the best hotels (H10, R2, Sun Sparrows, Sunrise Hotels), while the inner zone, bounded by Highway FT-2, are mainly Residences.
Costa Calma has the largest green area of the island, which emerges as an oasis in the dry Fuerteventura: This large park runs on both sides of the road, and is a true heart of the island, creating a small microclimate (this idea was launched by Don Gregorio Perez, the precursor of this tourist area) in addition to stopping the advance of sand by wind.
The area of Costa Calma has nine shopping centers, medical center, local police office, and supermarkets, plus a 24-hour gas station. Next to this gas station where one of the leading shopping centers, with a great surf clothing store.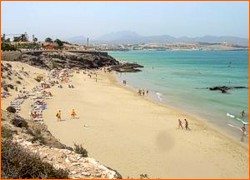 Costa Calma has an excellent sandy beach and calm waters of several hundred meters, and south to be "breaking" in small coves that are incredible, and ultimately leads to the Playa Esmeralda, moderate size and that is the latest in this area, before reaching the amazing Playa de Sotavento, over 4 miles long, which includes one of the best hotels on the island: SOL MELIA GORRIONES, and international center for windsurfing and kite
HOTEL MELIA GORRIONES ****

Definitely one of our favorite hotels on the island, both for its renovated and excellent facilities and its geographical location, in Playa Barca, the start of Sotavento Beach...

See more...

H10 PLAYA ESMERALDA ****

At 60 meters from the beach, this is one of the veterans Hotels in Costa Calma.
Very good facilities, a delicious buffet and a variety of...

See more...

R2 RIO CALMA ****Es

The Hotel Rio Calma, is one of the most elegant hotels Fuerteventura, both for its facilities and by offering impeccable service to its customers, and one of the most ...

See more...

R2 PÁJARA BEACH ****Es

Located on a small beach of white sand and turquoise water, and raised up from all facilities have a privileged view of...

See more...

H10 TINDAYA

****

Es

Adjacent to R2 Pájara Beach Hotel, this is another of the newly built Hotel in Costa Calma.
A stretch of beach has 215 double rooms, all...

See more...

RISCO DEL GATO

****

Es

VIK Suite Hotel Risco del Gato is a unique hotel with unique architecture surrounded by 34,643 m2 of gardens and heated swimming pools on different levels, which makes it an..

See more...

FUERTEVENTURA PLAYA

****

Es

Fuerteventura Playa is a great 4 star hotel in Costa Calma, on the coast of Fuerteventura. Until 6 years ago belonged to the Riu chain. It has direct access to the beach and

See more...

COSTA CALMA PALACE

**** Sup.

The Hotel Costa Calma Palace, the hotel chain SBH (which has 6 hotels in Fuerteventura), is perhaps the best hotel in Costa Calma, near the Melia Sparrows. Directed masterfully by Manuel Payeras...

See more...

CRYSTAL BEACH HOTEL SUITES

****

Crystal Beach Suites Hotel are well-SIUNRISE BEACH HOTELS, which have seven hotels in Fuerteventura, in a different category in Costa Calma and Jandia. This hotel belongs to the "high end"

See more...

COSTA CALMA BEACH

****

The Hotel Costa Calma Beach Resort is located on the beach of Costa Calma with direct access to the beach. It has over 500 rooms in several buildings facing

See more...

MÓNICA BEACH

***

Monica Beach Hotel is situated on the beach of Costa Calma, on a surface of 70,000 m2. Has 410 double rooms and apartments for up to 5 adults

See more...

CLUB HOTEL DRAGO PARK

****

The Club Drago Park Hotel is just 10 minutes from the beach of Costa Calma. Its 219 rooms spread over several buildings up...

See more...

HOTEL TARO BEACH

***Plus

Taro Beach Hotel is eminently familiar, choosing either all inclusive or half board. It is located on the same beach of Costa Calma

See more...

HOTEL ROYAL SUITE

***

The Hotel Royal Suite All Inclusive has 166 well appointed rooms. Located in Costa Calma, about 6 minutes from the beach in coche.Cuenta with four swimming pools, sauna, jacuzzi, gym and large sundeck

See more...