This tour is one of the easiest on the island of Fuerteventura.
No significant slopes, the trail is very comfortable, and in a couple of hours you get to your destination: Playa del Aguila (O Beach Staircase), one of the most beautiful beaches and a great unknown.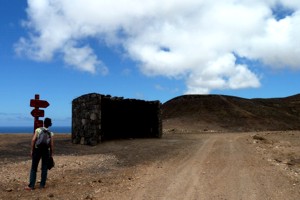 We leave Lajares Rotunda, located on the outskirts of the village on the road to the village of El Cotillo (VF-10)
From this roundabout, we headed down this road to El Cotillo, and about 200 meters we find the trailhead, duly noted by an explanatory panel, and that goes south on a wide trail of white sand called Barranco del Jable. leaving the mountains to our right.

We followed this ravine about 4.5 miles, and take a detour to the right, also of white sand, and that goes to the mountains and about 800 meters take a dirt road that goes right between those mountains.
On top of this step we find a small hut to rest, where we see an overview of Cotillo and the West Coast.
From here we go down a path that ends at the village of El Cotillo, but we leave and head to the coast, reaching the Eagle Beach, the beach or the staircase, where the tour ended.